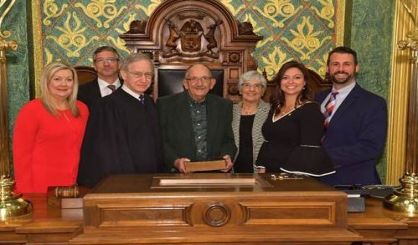 Michigan's 100th Legislature is now in session. Speaking on Wednesday, new House Speaker Lee Chatfield came forward to say that Michigan cannot afford to imitate national politics.
"We are not Washington, D.C. and let's ensure that we do not become it," Chatfield said. "While they are plagued with an inability to cooperate and to be civil with one another and continue on both sides to play petty politics and obstructionist strategies, we will show them how to lead."
Chatfield says it is not unreasonable to disagree, but it is reasonable to treat each other with respect at all times.
There are 46 new lawmakers in this year's Michigan Legislature. Republicans opened the term Wednesday with smaller majorities in both chambers following the November election. They will have to contend with a Democratic governor for the first time since 2009-10, the last time Michigan had a divided government. Legislative work is unlikely to progress much until Governor Gretchen Whitmer delivers her first State of the State address on February 5 and proposes her first budget in early March. There are also a lot of new lawmakers who need to learn the ropes. A record number of women, 53, are serving in the Legislature.
Pictured from left to right: Joyce and Brad Wendzel (parents of Berrien County state Representative Pauline Wendzel), Supreme Court Chief Justice Stephen Markman, Alton and Mildred Wendzel (grandparents of Pauline Wendzel), Representative Pauline Wendzel and Nicholas Scalise.
The Associated Press contributed to this report.