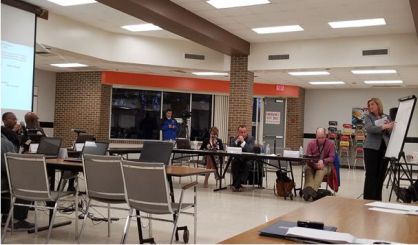 Benton Harbor Area Schools may be facing more than $18 million in debt, but that isn't necessarily the district's biggest problem. The biggest problem is declining enrollment. That's the message from Michigan Department of Treasury Office of School Review Director Shelbi Frayer. She spoke to the board of education Thursday, laying out the district's financial situation.
"The real story here is declining enrollment will kill this district," Frayer said. "That's the real truth."
Frayer said at a time when money is low, the district has decreased borrowing power due to the continued declines in enrollment. She told WSJM News the district could continue for the rest of the year by borrowing against anticipated property tax revenue.
"If Benton Harbor generates $6 million a year in property taxes, they could take out potentially a loan for $3 million," Frayer said.
But borrowing against state aid is getting more and more limited. Moving forward, Frayer said operating will get tougher unless enrollment stabilizes or goes up. There will be tough decisions if that doesn't happen.
"They can dissolve, they can charter," Frayer said. "There are all sorts of laws right now that allow schools to make certain choices on how they want to operate."
Trustee Joseph Taylor said he would never vote for chartering or dissolving. For now, the district is facing a possible payless payday in June unless short-term action is taken.