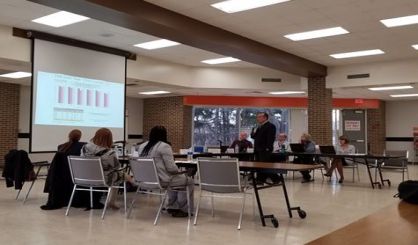 Benton Harbor Area Schools CEO Robert Herrera has spoken with the Michigan Department of Treasury about the possibility of the district going charter. At Tuesday's CEO meeting, Herrera said the state came to him about the idea, and as he understands it, forming a charter would take care of the district's $18 million debt.
"Our board authorizes a charter, authorize it for three years, the debt's gone," Herrera said.
Herrera says that's because declaring a charter would divert local property tax revenues toward paying off the debt while the Michigan Department of Education would pay for operations. Herrera told us this is one of the options the district has.
"Just from a financial position and allowing me the best opportunity to re-allocate several hundreds of thousands of dollars back to the learning environment, the charter authorization seems to be the most reasonable one to offer or recommend to the board."
At Tuesday's meeting, district officials again explained how declining enrollment at Benton Harbor Area Schools is decreasing the district's borrowing power to the point where it won't be able to borrow enough to function around 2021 or 2022. Herrera told us he's projecting a student decline of about 90 for next year. Whatever decision is made, it will have to be made by the board of education.