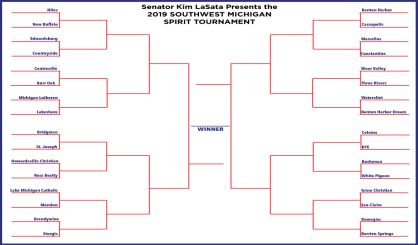 It's time for another Southwest Michigan Spirit Tournament. State Senator Kim LaSata announced in a Facebook video this week her office is keeping the tradition alive, offering schools throughout her district a chance to prove they have the most spirit.
"Get your photos ready, show them that no one has more school spirit than southwest Michigan," LaSata said.
Starting Monday, students can submit photos displaying their spirit at LaSata's Facebook page. Each high school will have an album, and as schools make it to the next round of the bracket-style competition, their albums will remain open for more submissions. Bonus points are awarded for the number of likes a school gets. The tournament ends on April 19. You can find out more at the Facebook page of state Senator Kim LaSata. The Coloma Comets were the winners last year.