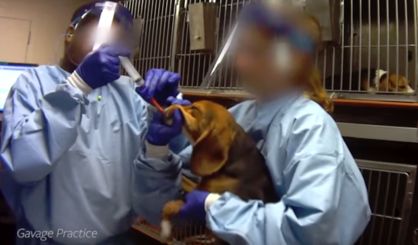 It's legal, but the Humane Society of the United States says testing being done on 36 beagles in Mattawan at Charles River Labs is abhorrent and immoral. The nonprofit released video footage shot undercover at what used to be MPI Research of the dogs being force-fed a fungicide made by Dow AgroSciences that Dow has admitted wasn't needed scientifically. The Humane Society is calling for the beagles to be released, and has launched an online petition to try to force Charles River Labs to end the tests. The videos were shot over the course of 100 days last year, with more than two dozen experiments being done on the dogs during that time. Several died as a result.
Charles River Labs released this statement to WOOD-TV in Grand Rapids: "Charles River Laboratories operates our facilities in a way that is consistent with our commitment to the welfare and ethical treatment of the animals in our care and in compliance with all federal regulations and international standards. As animal caregivers and scientific researchers, we are responsible to our clients and the public for the health and well-being of the animals under our stewardship, and we strive to fulfill that responsibility on a daily basis."
More information from the Humane Society can be found here, and their petition is available by clicking this link.
Image is a screenshot from the undercover video released by the Humane Society.