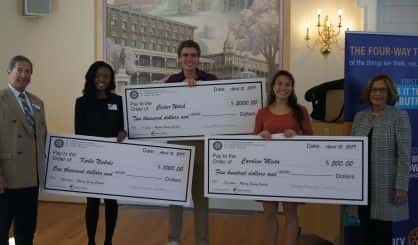 The Rotary Club of St. Joseph-Benton Harbor and Berrien RESA are honoring the winners of this year's Rotary Scholarship Essay Contest. Lakeshore High School's Carter Welch took first place and earned a $2,000 scholarship, with second place going to St. Joseph High School's Kaila Nichols and third place being won by Caroline Miota of Lake Michigan Catholic High School. Nichols earned a $1,000 scholarship, while Miota received one for $500.
Rotary Scholarship Essay Contest chair Jacqui Winship shared, "Especially given the rigorous nature of the contest, these essays demonstrate impressive thoughtfulness and skilled writing abilities. The quality of the essays submitted was remarkable and we thank the educators in the communities for teaching and mentoring these outstanding students."
Welch will put the money toward his education at Dartmouth College in the fall. Nichols is currently dual-enrolled at St. Joseph and Lake Michigan College and plans to study media, film and journalism at a four-year university and Miota has not yet decided which college she will attend upon graduation this spring. This is the 39th year of the Rotary Scholarship Essay Contest, and the 11th year Rotary has partnered with Berrien RESA to advance the program. Eleven students took part this year.