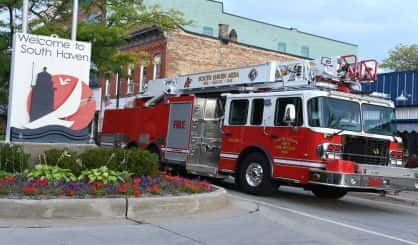 A success is how a massive training exercise involving South Haven Area Emergency Services and six other fire departments went on Sunday in downtown South Haven. SHAES Chief Ron Wise says the purpose of the event was to verify how much water could be pumped from the city's water system and the Black River along with figuring out the best places to stage fire fighting vehicles.
"It went really well," Wise tells our newsroom. "The planning that our guys did for building this training exercise up really paid off for all of our staff and our mutual aid partners."
Chief Wise said pumping around 5,000 gallons per minute is possible when fighting a large fire downtown. Fire departments from Bangor, Covert, Ganges, Hartford, Lawrence and Lee Township took part in the drill.