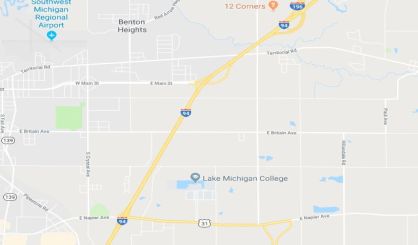 The Michigan Department of Transportation is planning an open house next week for everyone to learn more about plans to finish the US-31 connection to I-94. MDOT spokesperson Nick Schirripa tells WSJM News they'll get to work on the $111 million project starting next year. The plan is to make it possible to take US-31 to 94 without having to get off on Napier Avenue, as you do now.
"This project has been in development for more than 40 years," Schirripa said. "It's certainly not a new concept. Right around 2003 or 2004, there were some environmental issues that blocked the completion of Us-31 to I94."
Schirripa says the route was slightly altered to avoid those environmental issues. However, this project is more complicated than just extending US-31. Schirripa says everyone can hear from MDOT engineers at next Thursday's open house.
"We're going to have a bunch of displays out to kind of give people an idea of each piece of the project and how it all works together so they can get a view of what we're doing before we do it."
Among other things, this project will also mean removing some I-94 bridges and adding cul-de-sacs on Highland Avenue in Benton Harbor. You can find our more right here. Next Thursday's open house will be from 5 to 7 p.m. at Benton Township Hall. You can stop by at any point during that time.
Starting in 2020, MDOT will make improvements to I-94, US-31, and I-94 BL, including:
Reconstructing 3.1 miles of I-94, changing it from the current six-lane divided freeway to a barrier-separated eight-lane freeway.
Adding an auxiliary lane in each direction of I-94 from the new US-31 connection to I-196, along with a concrete median barrier.
Reconstructing all ramps at the I-196 interchange.
Reconstructing and realigning 1.6 miles of I-94 BL, right-sizing it from a four-lane divided highway to a three-lane arterial.
Removing the Euclid Avenue bridge over I-94 BL.
Constructing 2 miles of US-31 to make it a new four-lane divided freeway.
Removing the Highland Avenue and I-94 BL bridges over I-94.
Constructing cul-de-sacs on Highland Avenue at each side of I-94.
Constructing a new US-31/I-94/I-94 BL interchange over I-94.
Reconstructing the Territorial Road bridge over I-94.
Rehabilitating the Benton Center Road bridge over I-94.
Building new bridges over US-31 at Empire Avenue, Britain Avenue, and Benton Center Road.
Construction will take place in stages to minimize the disruption to motorists and residents.
On I-94, two lanes will be open in each direction.
Highland Avenue will be closed over I-94.
Construction of I-196/US-31 interchange ramps will be staged to maintain access.
The Territorial Road bridge will be closed with traffic detoured during construction of the bridge.