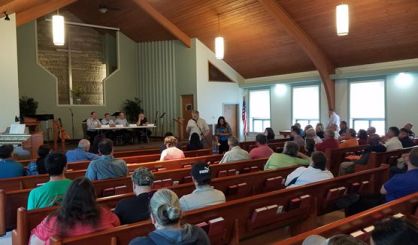 Officials from the state, county, and local levels were all present at a town hall Wednesday to update the public on the situation with PFAS recently discovered at an industrial site in Hartford. Samples from wells at the former Du-Wel Metal Products site tested for high PFAS levels when the state checked them in April. The results were learned last week, and within days, 59 residential wells near that industrial site were being tested. David Harn with the Michigan Department of Environment, Great Lakes, and Energy tells WSJM News more will be known soon.
"Results will be coming back sometime next week," Harn said. "They're on an expedited turnaround. The first set of samples were collected on Friday, but they were sent out to the lab who received them on Saturday. It'll be about a week from that point before we get the results."
Harn stressed no PFAS has been found in any homes as of yet. Bill Ferrell with the Michigan Department of Health and Human Services tells us residents affected by last week's testing are being given bottled water while they wait for results. They'll be among the first to know when those are available.
"Once we get the results back, the Van Buren County Health Department will be calling the residents with the results, and they'll have recommendations based on the results."
From there, Ferrell says everything depends on what those results are. Best case scenario, none of the 59 wells show high PFAS levels. If some do, the testing area could be expanded. Then, filters would be provided to affected residents. Clean-up options for PFAs are limited. Officials also revealed Wednesday the city of Hartford's municipal wells were tested last year and came in clear. They are now also being re-tested, just in case. The parent company of Du-Wel Metal Products went bankrupt in 2003. You can find general information on PFAS right here. Also, you can find out more about the Hartford PFAS situation right here.