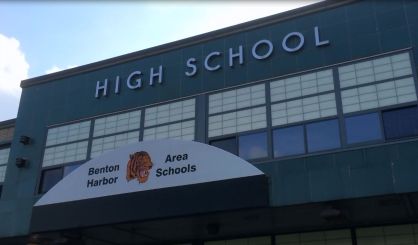 Some students at Benton Harbor High School have put together an inspirational music video about overcoming the adversity of a negative public image. At this week's Benton Harbor Area Schools CEO meeting, the video for "Get Up" was premiered to the community. Student mentor Traci Burton, a graduate herself, worked with students from an after school class, Lyricism 101, at the Boys and Girls Club Teen Center to write and produce the video. She said at Tuesday's meeting she asked the kids to make a song and video in response to negative media reports about their school.
"We forget that these are real, living, breathing students that go to this school when the media reports on them, when negative things are said, and they wrote about it, they put it in a song, and this is their truth," Burton said. "This is their story."
"Get Up" tells of students achieving and finding inspiration despite the negativity. Professional videographer Jeremiah Griffin worked with the students on directing, producing, and filming the video, while Benton Harbor native Will Garret produced the song. The video will debut on YouTube this Thursday. You can find the video right here.