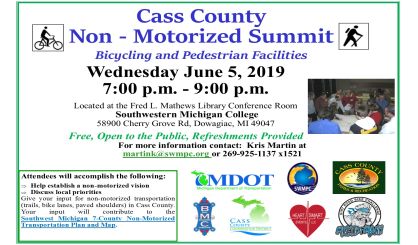 A meeting is set for next month in Dowagiac for the public to offer its input on the development of trail systems throughout southwest Michigan. Southwest Michigan Planning Commission Senior Planner Marcy Hamilton tells WSJM News the agency is working on a plan for several counties.
"We have been working with MDOT, the Michigan Department of Transportation, to develop a seven-county plan for southwest Michigan that addresses bicycling and walking and transportation facilities in the seven county area," Hamilton said.
They're holding summits in all seven of the counties to put people into work groups to draft plans for non-motorized trails.
"It's usually a paved path that people can bike or walk on, but they also include what we call on-road facilities, either bike lanes or paved shoulders."
Hamilton says the Berrien County meeting was earlier this year, and it was well-attended. People expressed interest in the trail planned for Red Arrow Highway between Bridgman and New Buffalo, and also for a trail from New Buffalo to Chicago. The Cass County meeting will be June 5 from 7 to 9 p.m. at Southwestern Michigan College. Another meeting will be held in Van Buren County the following week as the trail plan is put together for MDOT by the fall.