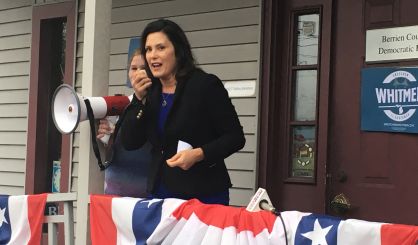 Governor Whitmer continues touring the state to put public pressure on lawmakers to pass her proposed 45¢ per gallon gas tax increase to raise money to fix the state's roads. She was in Dearborn on Thursday talking to reporters underneath a crumbling bridge outside Ford's Dearborn Truck Assembly plant.
"The crisis of infrastructure here in Michigan is real, and we need to get serious about fixing it," Whitmer said. Ford Dearborn Truck Plant manager Debbie Mazano supports the governor's push to hike gas taxes to raise over $2 billion to fix roads and bridges.
"We ship vehicles through here, and our employees use this bridge for coming to work, so we have about 4,500 employees just at the Dearborn Truck Plant alone, and the Rouge site about 8,000 overall," said Mazano. "It's a critical bridge."
No one in the House or Senate has yet drafted a bill, however, to increase the fuel taxes. Majority Republicans say even if someone does, it doesn't have the votes to pass.