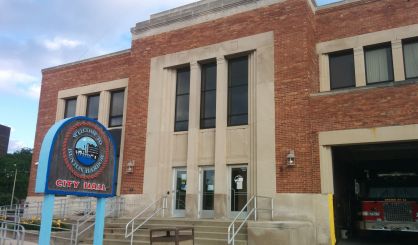 Monday night's meeting of the Benton Harbor City Commission nearly ended with the entire agenda being tabled due to an issue with a possible sale of city-owned property at 200 Paw Paw. Mayor Pro Tem Duane Seats wanted to know why that matter wasn't on the agenda when he said his committee last month approved the sale of the property to Justice Grown out of Chicago, a medical marijuana company.
"It's disrespectful for my committee to come here and sit for three hours and push something forward and it's on the agenda," Seats said. "I think it's an insult."
City Manager Darwin Watson said there was no proper sale agreement put forth. Mayor Marcus Muhammad said if city-owned property is going to be sold, it needs to be done properly.
"And I think that it's only right that a purchase agreement be put forth first because I don't know what, are we just voting on a gentleman's handshake, or because it was discussed?"
Several commissioners in recent months have had complaints about matters that were approved by committee not coming up for final commission approval. Commissioner Ron Singleton said Monday's issue was about the principle of the thing. In the end, Seats withdrew his motion to table the entire agenda after getting more information from the mayor and city manager. Representatives of Justice Grown were on hand at the meeting, and said their goal is to promote social justice while producing and selling medical marijuana.