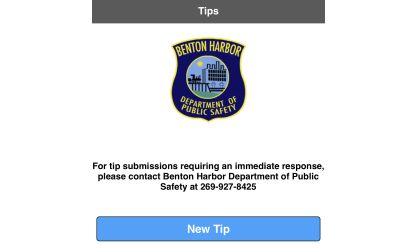 Letting police in Benton Harbor know of crimes is now easier for smartphone users. The city has released its Tip411 mobile app called Benton Harbor DPS, which can be found in the Google Play Store and Apple App Store. It is a free download that lets people send in tips and photos anonymously. Deputy Public Safety Director Mike Clark talked to WSJM News in April when the city approved the app about the privacy of it.
"It allows the ability to remain anonymous," said Clark. "It allows the ability for somebody to contact us and give us information without having to be seen with us. Not everybody trusts the police. What we will get is the tip and a tracking number so we can track it internally, and that's it."
Mayor Marcus Muhammad said the program is an innovative way to engage residents so they feel safe.
"When we had the string of shootings and murders in a short period of time, the message that came out of it was stop the violence and stop the silence," Muhammad said in April.
Clark told us when residents call 911, some feel they are asked too many questions, and this is a way to encourage more people to speak up. Authorities add, however, it should not be seen as a replacement for calling 911 for immediate issues.