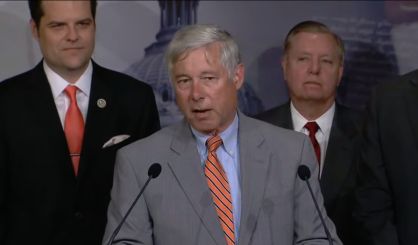 A new environmental protection and conservation effort is being launched by Republicans in the U.S. House and Senate, with Congressman Fred Upton of St Joseph named a House vice chair of the new Roosevelt Conservation Caucus. The guiding principles of what they want to do go back to former President Teddy Roosevelt.
"That's what this mission is. It's how we work together, (as) climate change is real," said Upton at a press conference in Washington announcing the caucus on Wednesday.
"In essence, (Roosevelt's) footprints and fingerprints are still in this institution, looking over us, in fact, to ensure that we are doing the right thing," added Upton.
In announcing the creation of the caucus, GOP lawmakers say the group will "embrace and promote constructive efforts to resolve conservation and environmental problems that align with market-based approaches and promote American ingenuity." One other Great Lakes lawmaker serves on the caucus, that being Senator Rob Portman of Ohio.