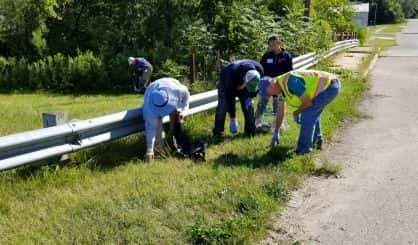 A cleanup event along Ox Creek in the Benton Harbor area late last month attracted 29 volunteers from several organizations. Southwest Michigan Planning Commission senior planner Marcy Hamilton tells us local Rotary clubs, the Two Rivers Coalition, and the planning commission collected trash. How much of a difference did they make?
"They've made a huge impact," Hamilton said. "They were very enthusiastic and worked really hard for a couple of hours, and with the 29 volunteers, they picked up over 70 trash bags. They also picked up 40 bags of recycling, and they also brought back six tires."
Hamilton says Ox Creek starts in Bainbridge Township near US-31, and goes to Lake Michigan. The volunteers who came out on August 24 were stationed near the Benton Harbor Meijer, at Hall Park, and all along the creek in Benton Harbor. Hamilton says the trash they picked up could have eventually wound up in Lake Michigan. Additional cleanups are likely in the future. You can learn more about Ox Creek and the effort to improve it at SustainOxCreek.org.