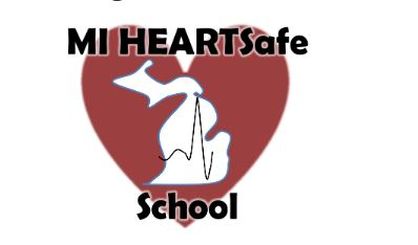 The Michigan Department of Health and Human Services is recognizing 164 schools around the state that have earned the MI HEARTSafe School designation for the 2018-2019 academic year. Department spokesperson Lynn Sutfin tells WSJM News the HEARTSafe program was created six years ago to help schools be sure they're prepared to help someone experiencing sudden cardiac arrest. They have to meet certain guidelines.
"That can include a written medical emergency response plan, a certain amount of individuals in the school – including staff and coaches – that are certified for CPR and AEDs, annual cardiac emergency response drills, and then accessible and properly maintained and inspected AEDs throughout the building."
Sutfin says around 300 Michigan children and young adults die as a result of sudden cardiac arrest each year. Having AEDs and trained staff in all Michigan schools is a goal of the HEARTSafe program. Right now, 569 schools have the designation. New to the list this year is Berrien RESA's Blossomland Learning Center. You can learn more about HEARTSafe Schools right here.