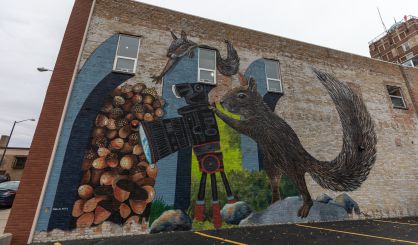 A new mural in downtown St. Joseph will be permanent. St. Joseph Today executive director Amy Zapal says it's on the Holt Bosse building on State Street and is the latest in a series of murals commissioned since last summer.
"Public art is so important, and outdoor art is so important," Zapal tells WSJM News. "For St. Joe Today, it helps expand the footprint of our downtown. Putting that mural over at the 100 block was an important thing to draw traffic all the way down State Street."
Minneapolis artist Shawn McCann created the new one, which St. Joseph Today calls "interactive." Zapal says one way it's interactive is how it makes someone feel.
"There's also the actual content of the mural, which is of a squirrel taking a picture," she explains. "So you can stand and the squirrel can take your picture while you take a selfie or someone takes your picture of you taking a picture of a squirrel that's taking your picture, if that makes any sense at all."
Zapal says they will have more art projects coming in the spring.