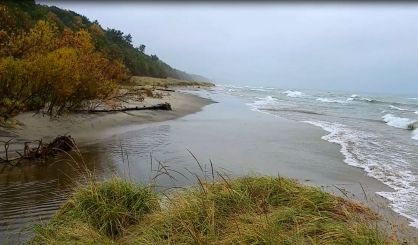 Congressman Fred Upton and colleagues from Michigan are trying to convince the U.S. Army corps of Engineers to speed up the approval process for property owners seeking to install shoreline protections along the Great Lakes due to coastal erosion this year. Upton tells WSJM News the high water levels and recent storms have teamed up to cause drastic erosion, threatening homes and other property along Lake Michigan.
"I can remember as a boy seeing maybe 12, 14, 15 foot waves," Upton said. "Who could have guessed that we'd have 20 foot waves within ten days of each other here in southern Michigan? The damage has been real severe."
Upton signed on to a letter led by Congressman Bill Huizenga, co-chair of the Great Lakes Task Force, to the commanding general of the Army Corps of Engineers about the imminent threat Michigan residents are facing. Joining Upton and Huizenga in signing the letter were Jack Bergman, Justin Amash, John Moolenaar, Tim Walberg, Andy Levin, Paul Mitchell, Debbie Dingell, and Brenda Lawrence. Upton told us, as of Tuesday, they hadn't yet received a response.