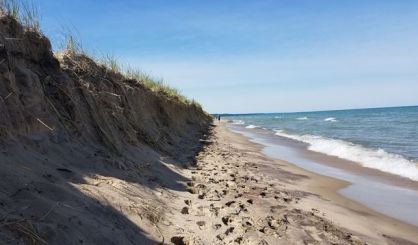 A disaster declaration for the entire Great Lakes shoreline in Michigan — more than 3,000 miles — is being sought by the Berrien County Board of Commissioners from the governor and the Michigan Legislature. At a meeting this month, the board approved a resolution from Commissioner Ezra Scott asking the state to consider such a move. Scott tells WSJM News large areas of coast are being lost due to high water levels and wind. He's been talking to commissioners in the Upper Peninsula about the problem.
"They're just devastated up there on Lake Superior, even more than we are down here, and they can't seem to get any help either, and they thought this would be a way of action," Scott said.
Scott says the goal would be for more Michigan counties to approve such resolutions so the federal government would declare a disaster. He's hoping a declaration could be made by the president.
"At that point in time, I don't know what the funding aspect of it is, but I was kind of led to believe it would have been like the hurricane in Puerto Rico. Puerto Rico wasn't made to pay any of that. It just brought the full weight of the federal government."
Scott said the coastal erosion could be slowed by three things. They are pumping sand out of the lake to build up the shoreline, using underwater rocks to build a sort of reef to reduce wave impacts, and lowering the lake water levels by diverting water. The county board approved his resolution Thursday unanimously.