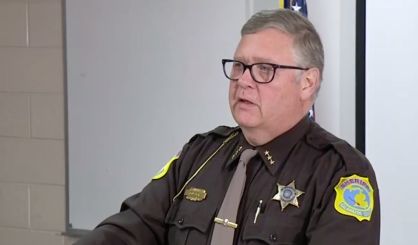 Police in Kalamazoo say a 22-year-old Comstock Township man has died and three police officers are recovering after being shot during a home invasion Sunday night. Kalamazoo County Sheriff Richard Fuller says the victim was Christopher Beal, who was doing nothing wrong.
"He was at home with his wife and child, and they were watching television," Fuller told reporters Monday. "An unknown-to-them suspect broke in, and started 40 minutes of mayhem for the family." Fuller says Beal's wife called 911 while hiding with their child.
Along with the sheriff's department, Michigan State Police and the Kalamazoo Department of Public Safety responded.
"While on the scene, they heard a gunshot prior to a full SWAT call out," adds Fuller. "Officers went in to the residence to try to save lives."
Beal had been shot and died. The suspect also is accused of shooting a state trooper, a county sheriff's deputy, and a Kalamazoo Public Safety officer. All three officers are expected to survive. The suspect is jailed and will face multiple charges, including murder.