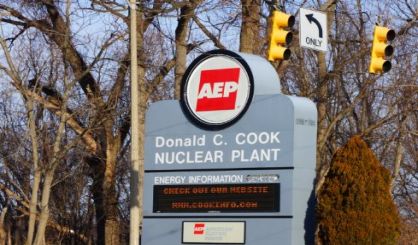 Unit One of the Cook nuclear power plant in Bridgman will go into a refueling outage this weekend. Spokesperson Bill Downey tells WSJM News the plant's reactors each have to shut down for refueling on a regular basis.
"Every 18 months each unit has to go through a refueling," Downey said. "Basically, we change the fuel in the reactor, but not only that, but there are lots of different maintenance projects that take place."
COVID-19 means this refueling outage will be a bit different.
"Usually we bring in between 1,100 and 1,200 workers in addition to the 1,000 that are on site, but we're scaling that back this time because of the pandemic. We're trying to keep fewer people on site for a shorter length of time."
They'll have about 900 extra workers on site, and some, more elective, maintenance projects that had been planned have been postponed. Downey says the plant has taken a variety of precautions to keep workers safe, and that includes talking with them about what they do when off site.
"As our marketing campaign says, 'Don't be the one.' You don't want to be the one who brings the virus on to the site because your coworkers depend on you."
Many of the contractors coming to town for this outage are regional, driving in each day from South Bend or Kalamazoo. Downey says there are rules for masks, distancing, and temperature checks. Plus, he says they've got "Plexiglas everywhere." The refueling outage starts Saturday and will continue for weeks.
Comments