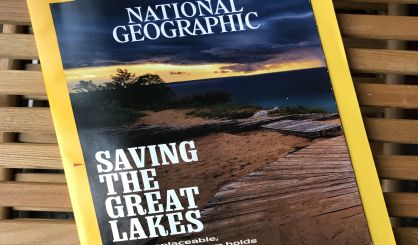 A farm project in the Hartford area is featured in the December edition of National Geographic magazine. Van Buren Conservation District watershed coordinator Erin Fuller tells WSJM News the edition of the magazine focused on threats to the Great Lakes, and included a piece on the district's use of a Great Lakes Restoration Initiative grant.
"We had about a two year project where we could offer cost share money to farmers who were willing to adopt some conservation practices on their farm field," Fuller said.
Fuller says that program included the planting of cover crops in their fields during the off season. Those are crops not intended for sale but to protect the soil.
"It protects that farm field from erosion and also actually has a lot of benefit for the field itself. It improves the quality of the soil for the farmer."
Fuller says the Van Buren Conservation District was able to protect about 2,000 acres of land in the Hartford area through the project. She says a research partner at Notre Dame tipped off National Geographic, making the section on the Van Buren County project a hopeful part of the overall edition on the Great Lakes.