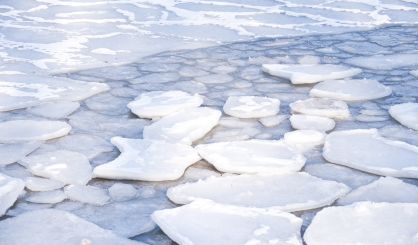 With an ice shelf now formed in Lake Michigan, police say it's a good idea to keep your distance. Berrien County Sheriff's Department Lieutenant Fred Laesch tells WSJM News recent erosion and weather have made venturing close to the lake this time of year more dangerous.
"The shoreline at this time is very beautiful and we need to recognize that and look at it, but you shouldn't go to the shoreline's edge because you do not know where the ice shelf starts and ends," Laesch said. "Due to the erosion, the beach area has been significantly cut back, and it's all snow and ice at this point so you don't know if you're walking out on that shelf or not."
As far as going on the ice itself, Laesch says that is not safe. It only takes one mistake for someone to fall in and suffer from hypothermia or worse. As for inland lakes, Laesch says you should bring along a tool to measure the ice thickness before walking on it. Generally, you want four to five inches of solid ice. If you fall in the water, kick your legs and try to get yourself back on ice as quickly as possible.
Comments