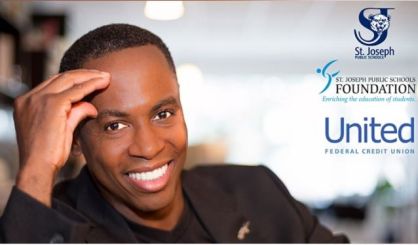 United Federal Credit Union and St. Joseph Public Schools are teaming up for a series of presentations this month on inclusion and diversity. UFCU Community President Rick Dyer tells WSJM News national business motivational speaker Dr. Adolph Brown will come to the high school on October 18 to present "Don't Judge a Book by Its Cover: Diversity, Equity, and Inclusion in Action." Dyer says with the school district's commitment to equity, Brown is a good fit.
"I have this unique perspective of being on the public schools board and the school foundation board and also community president for United Federal, and I know that we all three share the mission and strategic of really taking a look at ways to  eliminate and address discrimination and biases in our workforces, in our school districts, and in our communities," Dyer said.
Dyer says Brown will be at the school all day on the 18th to talk with staff and students, and then the public is welcome to two presentations he will give later. The first will be at 3 p.m. and the second at 6 p.m. Dyer says he's seen Brown's presentation before, and it's an entertaining and thought-provoking exercise. We have links to the registration pages below:
Registration page for the 3 p.m. presentation.
Registration page for the 6 pm. presentation.
Comments