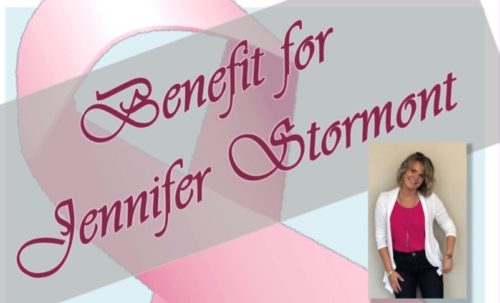 By Ryan Yuenger
ryany@wsjm.com
Local health care worker and mother of four boys Jennifer Stormont had plans to attend nursing school at Southwestern Michigan College this fall, but her life was turned upside down by a breast cancer diagnosis this summer.
Now, Stormont's mother, Bonnie Gonzalez, is trying to raise money to ease the financial burden caused by both the medical bills and loss of income placed on her daughter as she fights on the path to recovery. She will host a benefit for her daughter Dec. 1 at The D.A.N.K., 2651 Pipestone Road in Benton Harbor.
"The hard thing for me is that her grandmother, my mom, passed away from cancer," said Gonzalez, who also works in the oncology unit at Corewell Health South in St. Joseph. "I just didn't think it would be hitting home. … I'm just trying to figure out what I can do besides emotionally supporting her."

Jennifer, left, and Bonnie, right.
Stormont was raised in St. Joseph, and has previously worked at Spectrum Health Lakeland. She  currently works at South Bend Memorial, and aspires to work in forensic nursing. She resides in Buchanan with her husband and two of her sons, aged 7 and 15.
"They're just trying to get through day by day," Gonzalez said. "The seven-year-old just emotionally doesn't understand right now, but he's worried about his mom. Mainly what he says is just 'I'm scared. … I just don't want my mommy to die.' At seven years old, you just don't know. But they're all banding together to do whatever they can."

Stormont's children
Stormont has had a double mastectomy, two chemotherapy treatments and has been hospitalized once due to rhinovirus, being septic and neutropenic, according to Gonzalez. Neutropenia occurs when a person has too few neutrophils, a type of white blood cells which help the body fight infections.
"Every time she has chemo, her numbers drop … so she can't really be around anybody," Gonzalez said. "It's hard. The kids aren't able to have people over because they don't want their mom getting sick. It's challenging for the kids when they're worried and scared."
According to her mom, as soon as the chemo is over, Jennifer is planning on having reconstructive surgery and then she will get back to work.
"In the fall, she plans to go into the nursing program at SMC," Gonzalez said. "They've already saved a spot for her next year."
At the benefit, there will be a 50/50 raffle, food, a cash bar, door prizes and a silent auction featuring a Chicago Bears Gift Basket, Greenbush Brewing items, local art and a refrigerator.
The event begins at 5:30 p.m. Those unable to attend can donate to the GoFundMe set up for Stormont. All donations will be used for medical expenses.
"It would be so wonderful if people could turn out," Gonzalez said. "It would take so much pressure off the family to just have some money coming in. Plus, just the support from the community and their words of encouragement to show they they're not alone and there are people out there that do care would mean a lot."