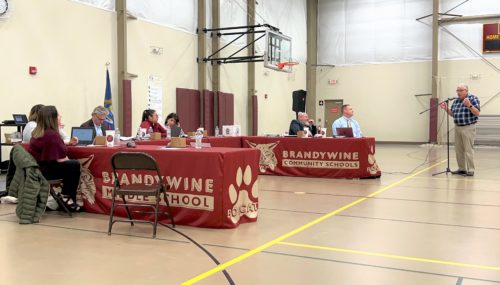 Newly elected leadership of a southwest Michigan school board is facing public resistance.
After discussing and creating several committees to oversee sex education and explicit books at its regular meeting on Monday, the Brandywine Community Schools Board of Education heard criticism from alumni, teachers, students, community members and a former superintendent.
Prior to enacting the agenda, the board rejected a motion to move public comment to the beginning of the meeting, as well as a motion to move a two-hour Board Governance Workshop until after public comment. 
There were several heated moments and responses from the large audience throughout the meeting as new We The Parents and 1776 Project PAC board members – President Thomas Payne, Vice President Elaine McKee, Secretary Angela Seastrom and Trustee Michelanne McCombs – expressed their opinions.
Watch the video below:
During the meeting, board members commented on the explicit nature of some books in the library.
"Some of the stuff in the school library is absolutely disgusting," Payne said. "In the corporate world, we have to go through sexual harassment training and if I distributed some of these materials to other adults, I would be reprimanded or maybe even fired."
At one point, Trustee McCombs asked all attendees under the age of 18 leave the meeting as she prepared to read the explicit content in some of the district's books. She ultimately did not read the material.
Action the board took included creating the following committees:
Curriculum Committee
Sex Education Advisory Board
Tutoring Advisory Board
Parent/Community Incolvement Committee
Parent/Guardian Curriculum Transparency Committee
Explicit Material Book Review Committee
An agenda item to halt any new additions to the library was tabled.
Pushback
While the new board members were democratically elected into office, the majority of speakers were opposed to the new board leadership, except two individuals from outside of the district – Ryan Candler, a parent of Niles Community Schools students, and Renee Peddie, an unsuccessful We The Parents candidate for St. Joseph School Board.
Watch the highlights of the public comment below:
Former Brandywine Superintendent, Teacher and coach Dr. John Jarpe, Ed.D. said he is "heartsick" watching the We The Parents takeover of the school board. Watch his full comments below:
Another district parent, Terry Frick, said he had his concerns about explicit content in books, and suggested having parental consent for individual books in the library. Ultimately, he called for unity and individual liberty.
"I don't think that anybody up here has any ill will toward the kids," said Frick, of the board. "When I come up here, I'm not coming with any hate for anyone … live and let live."
By Ryan Yuenger
ryany@wsjm.com
Comments