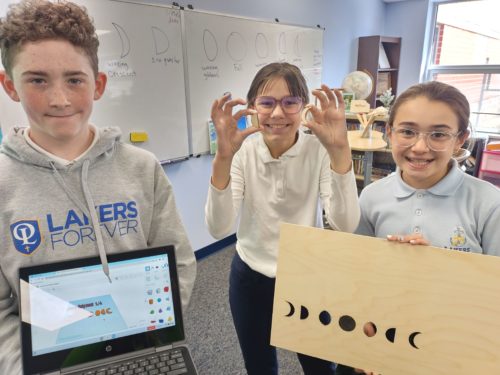 There's a new complete Makerspace at Our Lady of the Lake Elementary School in St. Joseph, and it's being integrated into the everyday learning of the students. Principal Sherri Kirschner tells us the space features a Glowforge Laser Cutter and Engraver, 3D printers, circuits and bots, a Lego station, software, engineering and electrical packs, and more. The students can be creative and use their math and tech knowledge to craft almost anything they want.
"They get to use all of their critical thinking skills, and it basically tells them that it's OK to fail sometimes," Kirschner said. "Just try to try again to make it better."
Kirschner says teacher Lindsey Goshgarish is leading the use of the Makerspace and will make it part of common student activities next school year.
"She will team up with the classroom teacher to see what they're working on in math or what they're working on in science, or how they can incorporate it into our ELA program, and then they will design projects that they work on in the Makerspace to complement our basic core curriculum."
Kirschner says the evolving workplace and economy mean it's more important than ever for students to develop teamwork, critical thinking, and tech skills. The Makerspace was possible thanks to a $50,000 donation from a school supporter. She says Our Lady of the Lake is the only elementary school she knows of to have such a space.