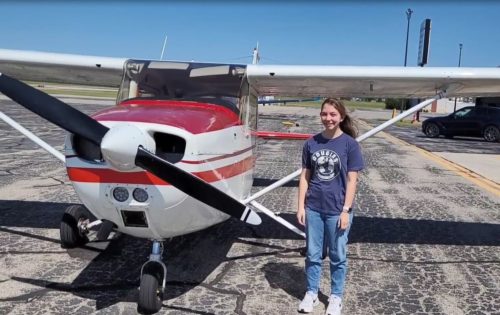 A 17-year-old from Bridgman has achieved something not many do at her age. She's earned her pilot's license. Katherine Abbott took her first solo flight on her 16th birthday, and after racking up enough hours training out of the Southwest Michigan Regional Airport, she's earned her private pilot single engine license at 17. She told us she got interested in flight at an early age.
"I have a good family friend who's a pilot, and he takes me flying," Katherine said. "I love it."
Abbott began researching flight schools a couple of years ago and met instructor Andy Green. She was flying his single engine Cessna 172 with him on her first day. She's racked up 80 hours of flight time and has been at the airport nearly every day lately. Why does she enjoy flying so much?
"It's a lot of fun. It is a challenge, but it' a fun challenge with a lot of rewards."
Katherine's mom, Joanne, told us she's proud.
"It's the best thing ever. Then she took me out for a ride. I was her first passenger," Joanne said.
They went all over the area, down to Bridgman, and back to the airport. Katherine says she wants to fly to Mackinac Island next, something instructor Green told us she can now do. Her ultimate goal is to head off to Western Michigan University to become a commercial airline pilot.