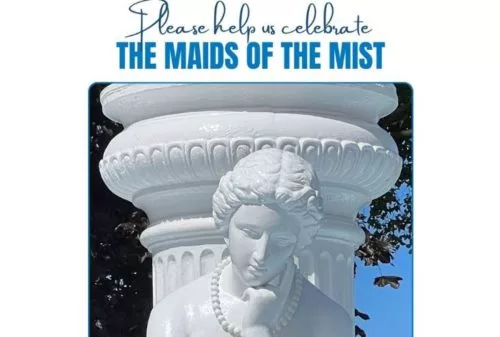 Set for this Sunday is the rededication of the Maids of the Mist Fountain in downtown St. Joseph. The fountain was taken out of Lake Bluff Park in April of last year to get a full restoration by McKay Lodge Conservation Laboratory in Ohio. St. Joseph Public Works Director Greg Grothous told us last month the firm had plenty of work to do.
"It has been a total restoration," Grothous said. "Every little piece of the fountain has been removed, repaired if needed, sandblasted, repainted, and put back on with stainless steel screws so they don't rust out."
Grothous says the restoration has come with surprises as the central support column had to be replaced, and the company has restored even the smallest pieces of the fountain. Now it's finally all finished. The rededication of the fountain will be at 3 p.m. Sunday, and everyone's invited to come and celebrate. The Maids of the Mist Fountain was built 150 years ago and began its life at Lake Bluff Park 132 years ago, on August 27, 1892. The fountain is property of the city, originally purchased by H.E. Bucklew, the owner of the Whitcomb Hotel. The restoration project's $210,000 cost has been paid for by St. Joseph resident Judy Felland, who Grothous says is both generous and a fan of the fountain.