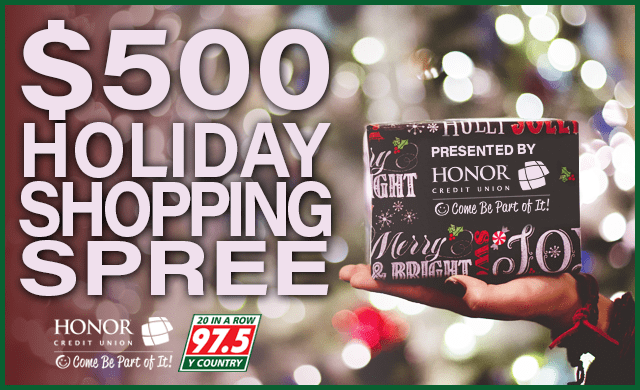 ---
2020 Honor Credit Union $500 Shopping Spree Rules
1) Qualifiers must be 18 years of age or older, (with a valid state issued driver's license).  Qualifiers must not have won any MAJOR prize (over $500) from Mid-West Family within 30 days.
2) Contest will take place 11/29/2020 – 12/17/2020.
3)  Contest winner is non-transferable.  Mid-West Family and WSJM, Inc. shall have no responsibility for failure to win or claim prize based on difficulties with telephone lines or any other circumstances.
4) Beginning Sunday November 29th, listeners register on-line at 975ycountry.com.  Registration will take place between November 29th and December 17th. Starting December 4th, Matt Malone will pick 1 qualifier each weekday at 7:40am. 10 qualifiers total. Qualifiers will join in a video conference through the Streamyard platform where a reverse drawing will take place through a 3rd party virtual spinning wheel to narrow the finalists from 10 to only one.
5)  Prize:  $500 check paid out from Honor Credit Union. Honor will work logistics out with the winner of how to get the check to the winner; either by mail or from their closest member center. Prize is non-transferable.
6)  Mid-West Family is not responsible or liable for any problems associated with contest or prize. If prize becomes unavailable, a comparable prize of equal or greater value will be substituted.
7)  Any and all other sponsors/advertisers involved with any promotion assume no responsibility for situations, repairs, or incidents arising from any aspect of any and all prizes awarded.
8)  Prize is not redeemable for cash, and no cash equivalent will be awarded.  Winner is responsible for any and all taxes per state and federal law.
9)  The voices and/or pictures of contest qualifiers and winner may be used for promotional and/or broadcast purposes by Mid-West Family & Honor Credit Union.
10) Mid-West Family, WSJM, Inc., their advertising agencies, affiliates, contest sponsors, employees, and immediate families * are not eligible. Employees of radio and/or television stations broadcasting within a 50-mile radius of Mid-West Family are also not eligible.
11) Mid-West Family reserves the right to amend or append these rules at any time during the contest.
12) If the contest prize becomes unavailable for any reason, a prize with equivalent face value will be provided as an alternative.
*Immediate Family shall include spouses, parents, children, siblings, grandparents, grandchildren and co-habitating "significant other".  Residents of the same household are also considered "immediate family, whether or not related by blood or marriage.