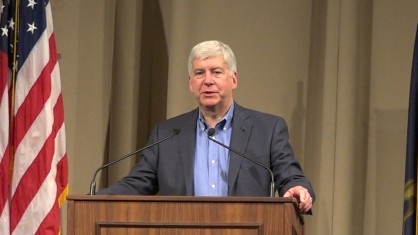 Following a remark she shared on social media, which called NFL players that kneel during the national anthem "anti-American degenerates," Michigan State Police Director Colonel Kriste Kibbey Etue received a five-day suspension of pay on Thursday from Governor Rick Snyder. But she will stay on the job, working without pay.
"What she said wasn't appropriate," Snyder said Friday. "There's an issue with civility and relations in many different ways and so I came out with a number of recommendations that we should be looking at statewide across all state employees. NFL owners, NFL players, this is coming up with our elected officials across the country. There's more that needs to be done to understand one another, and I think we can take steps to make sure Michigan's a leader in better understanding and better relationships.
Etue's post had led some to call for her firing.