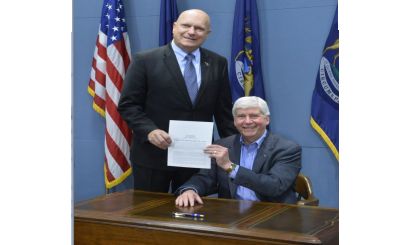 Legislation from state Representative Dave Pagel designed to make Michigan's parole system more fair has been signed by the governor. Pagel tells WSJM News under the current system, when someone sentenced to life in prison with the possibility of parole is up for a parole hearing, the original judge who sentenced them has the power to veto the hearing. However, so does any judge who succeeded that original sentencing judge, even if said second judge isn't familiar with the case.
"Some judges were doing that rather routinely, and others were not," Pagel said. "So, a prisoner's chance of having a parole hearing was really hit or miss, depending on what part of the state they're from. It was really unfair."
Pagel's bill takes away a succeeding judge's power to veto a parole hearing. He tells us while their original crimes were often indeed serious, some of these inmates should be given a chance of possible release after they've served a long sentence. Pagel says the bill does not award automatic release to anyone. It just gives them a chance to have a parole hearing. Governor Rick Snyder signed the bill in December, and a ceremonial signing was also held this week.