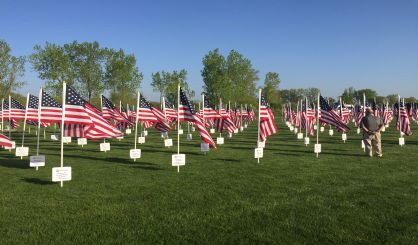 Lest We Forget and the Exchange Club of Southwest Michigan are teaming up to honor veterans as part of this May's Senior PGA Championship at Harbor Shores. The Exchange Club's Jim Ashbrook tells WSJM News they did it last time with a patriotic display featuring American flags.
"We had a 300 flag field out at the seven, eight, and nine holes at Jean Klock Park," Ashbrook said.
This time, the Field of Honor will be at a different location.
"The flag field is going to be at the bus stop where the M-Tech/Whirlpool building is just off Klock Road," Ashbrook said.
Plus, there will be about 30 flags where the Harbor Shores spectators entrance will be. Ashbrook says individuals can sponsor a flag for a veteran at the larger MTec Field of Honor for $50. Organizations can sponsor flags at the Harbor Shores entrance area for $75. You can find out more about doing so right here. All money raised goes to Lest We Forget.