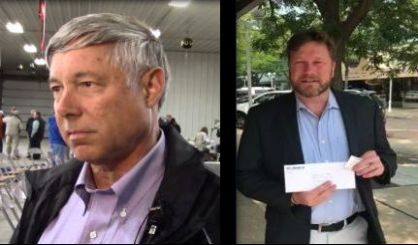 By Doug Cunningham.
In November, 6th District U.S. Rep. Fred Upton will face voters in his most competitive re-election ever. A September poll from Public Policy Polling showed Democrat Dr. Matt Longjohn within four points of Upton. Healthcare is a central issue in this race. The Affordable Care Act – Obamacare – had record enrollments this year.  And it has cut the number of uninsured in America from 48 million before Obamacare to about 28.6 million now. It's approval rating hit 54 percent this year. So why did Fred Upton vote last year to repeal it?
"Well, we had a vote to, uh try and reform, uh, the Obamacare bill. Premiums have gone up substantially. I had a couple of lines in the sand that I put out. I wanted to make sure that states like ours that expanded Medicaid (under the Affordable Care Act), that those individuals would be protected."
But what about other states?
"Well, new states were not gonna be permitted to expand."
But it was Obamacare that allowed Governor Rick Snyder to expand Medicaid in Michigan. We asked Upton if the Affordable Care Act has had some positive impact.
"Well, umm, there are a lot of weak – you know – unfortunately when Obamacare passed it was not bipartisan. Uh, there are a lot of good ideas I think on both sides of the aisle that can be used to improve healthcare. And, uh you know, it's pretty apparent that in this Congress it's not likely to happen."