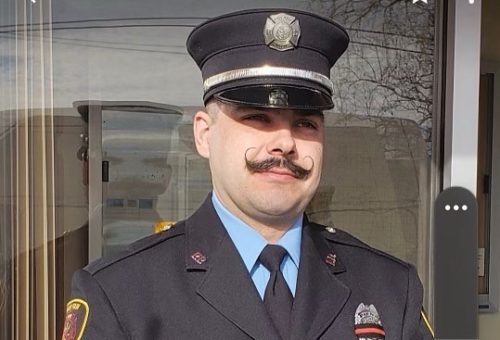 A firefighter killed in the line of duty last week will be laid to rest this weekend.
A public visitation, private memorial service and funeral procession for fallen Paw Paw firefighter Lt. Ethan Quillen will be held this Saturday. Quillen died in the line of duty last Wednesday when he was hit by a fallen power line during an ice storm in in Almena Township.
Public visitation will begin at 10:00 a.m. at Paw Paw High School, with a funeral service to follow. A procession featuring Ethan's parents, grandparents, friends and first responders will then head from the high school to Oakwood Cemetery in Allegan for a burial ceremony.
Ethan's parents will be in the lead patrol unit with Van Buren County Sheriff Daniel Abbott. Ethan's grandparents will be in the second patrol unit with Ethan's close friend Deputy Jeff Gilbert. Ethan's widow and daughter will be in the third unit which will be Engine 1 from the Paw Paw Fire Department, along with Ethan and other fire fighters. The fourth unit will be Engine 2 driven by Chief Jim DeGroff.
The procession will leave Paw Paw High School and make a stop at the Paw Paw Fire Department, 832 S. Gremps Street, to honor Quillen before heading up to the burial site in Allegan. The procession will end at M-43, where only family and select others will continue to the burial.
FOX 17 will be streaming the funeral service at 12:30 p.m., and all other media are asked to remain on the funeral procession path and not come to the cemetery.
To donate to a GoFundMe set up for Quillen's family, click here.