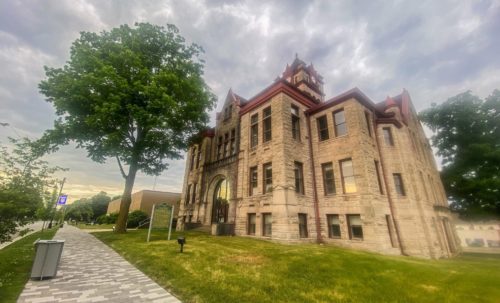 The trial of a man who went on a shooting rampage through Cass County last summer is over.
Vandalia resident Randy Kirk is facing possible life in prison after being convicted on 10 counts related to an active shooting incident on July 26, 2022.
Kirk, described in closing by Cass County Prosecutor Victor Fitz as "hunting humans," was found guilty of the following charges on Friday in Cass County Court:
One count of assault with intent to murder, habitual 3rd offense
One count of felonious assault, habitual 3rd
Two counts of resisting and obstructing police
One count of firearm possession by a felon
One count of ammunition possession by a felon
Four counts of felony firearm
Kirk is set for sentencing September 15 at 8:30 a.m. in front of Judge Mark Herman. According to Cass County Prosecutor Victor Fitz, all sentences will run concurrently – except the felony firearm charges, which will run concurrent to each other but consecutive to the other charges.
The defendant was also found not guilty of one count of felonious assault and one count of felony firearm.
The incident
According to a report from Fitz, the incident happened as follows:
"At about 8:45 a.m. July 26, Kirk was seen standing outside his Blue SUV at the intersection of Brownsville and Calvin Center Road firing six or more shots from a silver handgun at cars travelling the roadway. At the time, the defendant was living a short distance from the intersection. After this initial gunfire barrage, Kirk was seen getting into his SUV and heading north toward M-60 and Vandalia.

Local resident Justice Colpitts, who was driving his black Ram Pickup Truck southbound down Calvin Center Road witnessed Kirk peppering the trafficked area with bullets. He advised he was fearful something worse was about to happen. So he did a 180 in the roadway and began following the suspect north toward M-60 while simultaneously dialing Cass County Central Dispatch to relay his real-time observations. Colpitts and other witnesses said Kirk ran the stop sign at M-60 and, at a high rate of speed, turned east onto the one mile stretch leading to Vandalia.

With Colpitts continuing to intermittently stop and follow at a safe distance, Kirk parked his vehicle on M-60, got out and began shooting down the roadway in the direction of Colpitts pickup. Colpitts described from the stand hearing the high-pitched "whizz" of multiple bullets flying by him, as well as hearing one of the projectiles thud into the front passenger headlamp of his Dodge Ram. …

Cass County Detective Kevin Cook pulled up first and immediately exited his vehicle a few feet from Kirk and the store entrance.  Dollar General store video showed that Kirk responded by leveling his semi-automatic directly at Cook.  Unflinching, Cook responded by pointing his AR-15 directly at the Defendant and ordering him to put the weapon down.  At the same time, Cook moved deliberately toward the Criminal gunman, and quickly wrestled him to the ground.  Moments later other officers arrived and joined in the fray, including Cass County Sheriff's Captain Tom Jacobs, Sergeant Jeff Johnson and Cassopolis Police Chief Todd McMichael. "
In arrest documents obtained by WSBT 22, Kirk told arresting deputies he was shooting at "the mafia." In August 2022, the defense was granted a psychiatric evaluation for Kirk.
The defendant has two prior convictions for maintaining methamphetamine labs in 2004.
"Colpitts and Cook were heroes, as were the other brave responders to this active shooter incident," Fitz said. "They put their lives at risk to shield others from death … the coordinated effort of citizens, police and dispatchers averted potentially catastrophic carnage.  And just in the nick of time.  Michiana can be extremely proud of the actions of it law enforcement officers."